1. The Glitz and Glamour of Dubai 
At The Top Burj Khalifa Sky Experience

Take in the views from the Burj Khalifa observation deck.
Soaring high at 555 meters, At the Top, Burj Khalifa SKY is fittingly Dubai's most iconic destination. Get ready to enjoy exclusive access to the redefined, highest outdoor observatory in the world, spread across levels 148 and 125 of Burj Khalifa. Your journey begins when you step into the At the Top, Burj Khalifa SKY lounge, from where you will be personally escorted to a dedicated elevator. Inside, watch in amazement as specially designed projections give you the feeling of flying over global landmarks as you ascend to Level 125. Marvel at the heady view yourself with a Burj Khalifa "At the Top" Entrance Ticket. Go up one level more with an exclusive Burj Khalifa "At the Top" SKY Lounge Entrance Ticket. Combine the soaring heights with high tea with a trip to Burj Khalifa "At the Top" Including Afternoon Tea at the Burj Al-Arab hotel. Spend a day on a Dubai tour including Burj Khalifa admission and afternoon tea at Atlantis the Palm.
Discover the Dubai Desert
A visit to Dubai wouldn't be complete without a trip into the desert, especially when the locals are so fond of exploring the nearby dunes. Go out on a 4×4 Dubai Desert Safari, or combine a desert safari with Dubai sightseeing tour. You can get an expanded experience with a Dubai Desert 4×4 Safari with Quad Ride, Camel Ride, BBQ Dinner and Belly Dancing. For the automobile enthusiasts, there's a luxury desert experience with dinner and Emirate activities via vintage Land Rover.
 Marvel at Dubai City
An urban oasis perched on the tip of the Persian Gulf, Dubai's fashion-forward shopping districts, futuristic architecture and unabashedly luxurious resorts seem incongruous with their desert surroundings. You can also see the city from ground level with a Dubai City Half-Day Sightseeing Tour or Big Bus Dubai Hop-On Hop-Off Tour. Head out on the water on a Dubai Dinner Cruise.
2. Explore the Atlas Mountains of Morocco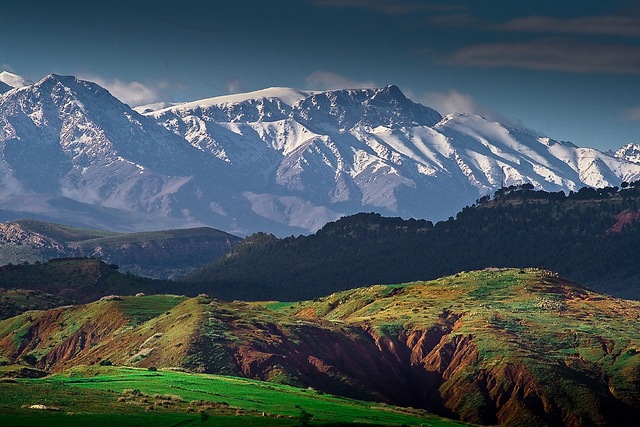 Explore Morocco's Atlas Mountains
Forming a dramatic natural barrier between the coastal lowlands and the Saharan plains, the rugged landscape of Morocco's Atlas Mountains range is ripe for exploration, and it's easy to escape to the hills on a day trip from Marrakech. Head out to see the natural beauty on an Ouarzazate and Ait Benhaddou Day Trip Through the Atlas Mountains from Marrakech. Soar over them for a bird's-eye view on an Atlas Mountains hot air balloon ride from Marrakech, including a Berber breakfast and desert camel experience.
3. Check out the Great Pyramids and Sphinx of Egypt
However much you think you learned about the Egyptian pyramids in your high school history lessons; prepare to be blown away when you stand before the legendary Pyramid of Khufu at Giza – a structure worthy of its status as one of the Seven Wonders of the Ancient World. Take a private tour to see the Giza Pyramids and Sphinx. Expand your list of sites with a private tour of the Giza pyramids, Sphinx, Memphis and Sakkara or private tour of the Giza pyramids, Sphinx, Egyptian Museum and Khan el-Khalili Bazaar, during which you'll explore the Great Pyramid of Giza, Sphinx and former capital Memphis, under the guidance of an expert Egyptologist.
4. See the Capital of the United Arab Emirates, Abu Dhabi
Visit the Sheikh Zayed Grand Mosque in Abu Dhabi
Abu Dhabi – the capital of the United Arab Emirates – has earned itself a place on the luxury hot list. Get an overview of the city's unique blend of Arabian traditions and affluent modern living with an Abu Dhabi hop-on hop-off tour including Yas Island and Sky Tower or a full-day Abu Dhabi sightseeing tour. For even more in-depth insight into what makes this place tick, sign up for a private Abu Dhabi tour from Dubai.
5. See the Sites of the New Testament
Go on a day trip to the Sea of Galilee.
Its one thing to hear Biblical stories in church, and quite another to visit the places where those events are said to have taken place. You can spend a full day exploring some important New Testament sites with an expert guide, which can help put the stories into context. Visit Nazareth, including the Church of the Annunciation and St. Joseph's Church, as well as the Sea of Galilee and baptismal spot on the Jordan River in Tiberias. Take a Nazareth, Tiberias and the Sea of Galilee Day Trip from Tel Aviv or Nazareth, Tiberias and the Sea of Galilee Day Trip from Jerusalem.
6. Step Back in Time on a Day Trip From Beirut
Beirut is not only a fascinating and exciting city, it's also a great base for exploration. You can visit some remarkable places not far from Beirut, both to step back in time as well as see how Lebanese people live in the modern world. Explore the cities of Byblos and Harissa and the world-famous Jeita Grotto on a day trip from Beirut, a combination of rich archaeological excavations and natural wonders. You can visit the villages of Kozhaya and Besharreh, along with the Cedars of Lebanon, on a day trip from Beirut. Spend a day exploring the cities of Anjar, Baalbek and Ksara on a day trip from Beirut, seeing ancient ruins and a famous Lebanese winery. Or see the UNESCO-listed city of Tyre, along with Sidon and Maghdouche on a day trip.
7. Have an Animal Encounter in the Wild
See elephants on a safari tour
Seeing the "Big 5″ of Africa – water buffaloes, leopards, elephants, lions and rhinos – in their natural habitat is on many a bucket list. If this is your year to go on a safari in Africa, it'll be a year you never forget. Get out of South Africa's so-called Mother City for a day trip on an Aquila Game Reserve Wildlife Safari from Cape Town. Visit one of Botswana's top attractions on a day trip to Chobe National Park with game drive and river cruise. See the former Kenya home of the Out of Africa author during a Nairobi National Park, Karen Blixen Museum and Langata Giraffe Center Tour from Nairobi. Or choose a 2-Day Western Cape safari from Cape Town with a Big Five game drive and visit to Cango Wildlife Ranch.
8. Explore Religious Jerusalem & Bethlehem
No matter your religion, a visit to the religious sites of Jerusalem makes for an impressive history lesson. Sacred to multiple religions, Jerusalem is as complicated as it is important. Get an overview of the historic and modern city with an Old Jerusalem Day Trip from Tel Aviv. See multiple sides of this historic place with a Jerusalem Three Religions Holy City Walking Tour, visiting the holiest sites of Judaism, Islam and Christianity. Dig a little deeper with a City of David and underground Jerusalem day tour.
The ultimate in sacred destinations, a visit to the birthplace of Christ in Bethlehem is a popular pilgrimage for believers of any religion. Take a tour of the site of the Crucifixion at the Church of the Holy Sepulchre, before soaking up the atmosphere at the famous Church of the Nativity in Bethlehem on a half-day trip to Bethlehem from Jerusalem, or see both Bethlehem and Jericho on a day trip from Jerusalem. Explore two important historic cities with a Day Tour of Jerusalem and Bethlehem.
9. Wander the Ancient City of Petra
 
Day trip to amazing ancient Petra
A UNESCO World Heritage Site and even a Hollywood star (Petra was featured in the 1989 hitIndiana Jones and the Last Crusade), the spectacular ruin of the ancient city of Petra is Jordan's principal attraction. Explore the theater, colonnaded streets and vast mausoleums famously carved into the red rock on a full-day private Petra day trip from Amman. Start in neighboring Israel for a day trip to see Petra with either a Day Tour to the City of Petra from Tel-Aviv or Petra Day Trip from Tel Aviv – both of which include round-trip flights and local guides.
10. See the Vibrant Capital of Oman
Go to the Sultan Qaboos Grand Mosque in Muscat
Muscat is the capital of Oman and has long been an important port city, but it's also one of the most architecturally interesting places on the continent, with building codes requiring traditional elements on every structure. Muscat isn't all about history, however – there's a relatively new Royal Opera House drawing international attention. Get an overview with a Big Bus Muscat Hop-On Hop-Off Tour or city tour of Muscat, during which you'll get a chance to marvel at the grand Sultan Qaboos Grand Mosque, stroll the historic old town and try haggling in the local souks. Make the most of your time in port with a Muscat Shore Excursion: Private City Highlights Tour.
11. Listen to the "Smoke That Thunders" at Victoria Falls
Victoria Falls is famous the world over as the largest waterfall in the world, a UNESCO World Heritage Site and one of the Seven Natural Wonders of the World. Its indigenous name, Mosi-oa-Tunya, means "the smoke that thunders" – an apt description of the roar and mist created by the volume of water. See the incredible place on a Victoria Falls Walking Tour, or soar overhead during a Victoria Falls Helicopter Tour. For a different viewpoint on the falls, explore the river from which it stems. Take a Sunset Zambezi River Cruise with Transport from Victoria Falls or spike your adrenaline with a Zambezi River Whitewater Rafting Adventure from Victoria Falls.
13. Get Back to Nature in Mauritius
See the Seven Coloured Earth in Mauritius
Tiny Mauritius sits far off the eastern shore of Madagascar, which is off the eastern shore of the African continent. It's renowned as a nature-lover's paradise, with a wide variety of flora and fauna you can see nowhere else. It's also one of the top luxury destinations on earth, thanks in part to its lovely beaches and tropical weather. Explore the best of unspoiled Mauritius with a Southwest Mauritius day trip including visits to Chamarel Waterfall, Trou aux Cerfs and Seven Coloured Earth to see multi-colored dunes, taste locallymade rum, see a sacred lake and indulge in a three-course traditional Mauritian lunch.